click to enlarge
Yesterday, while most of the
Kids VT
staff was hanging out at Battery Park for Burlington's Kids Day celebration, my family and I headed to Oakledge Park for Vermont's second annual Walk for Williams. More than 100 people showed up on a sunny spring Saturday to raise money for the nonprofit
Williams Syndrome Association
.
If you were on the southern end of the Burlington Bike Path Saturday morning, you might have seen us walking between the Oakledge picnic pavilion and the Earth Clock. Most of the walkers wore white T-shirts that read, "Williams Syndrome: extraordinary gifts, unique challenges."
Williams syndrome is a genetic condition — children and adults who have it are missing part of chromosome 7. They lack the elastin gene, which is what gives blood vessels their strength and flexibility. "Elastin's in every tissue in our bodies, basically," says Walk for Williams organizer Mary Hill.
Hill is an oncology nurse at Fletcher Allen Health Care, and an assistant nursing professor at Vermont Technical College; my partner, Ann-Elise, is one of her students, which is how we heard about the fundraiser. Hill and her husband have three boys. Their oldest, 8-year-old Aiden, has Williams.
I spoke with Hill by phone after the fundraiser. She explains that the condition can cause a wide variety of complications, including severe cardiovascular problems and cognitive challenges. "There are behavioral issues, ADHD and all of that fun stuff," she reports. People with Williams also possess similar facial features, including a small, upturned nose and a wide mouth. According to the WSA website, people with Williams may also possess "striking verbal abilities, highly social personalities and an affinity for music."
Hill points out that Williams isn't something that doctors catch right away. Aiden was diagnosed at 14 months. "He had so many different issues," remembers Hill. "He was extremely colicky and irritable." A Burlington geneticist finally discovered the cause.
Williams is a rare condition; the WSA estimates that it affects just one in 10,000 infants born worldwide; by contrast, Down Syndrome, another genetic disorder, affects one in every 1250 infants, though the rate goes up for children born to women over 40. Hill says there were seven Williams kids and one adult among the participants at Saturday's event. "The walk is the only time in Vermont that families have been brought out of the woodwork," she says.
click to enlarge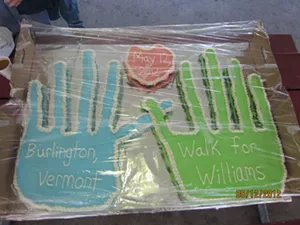 Hill likes being able to get the families to get together. "It's fascinating to hear that they have the same positives and negatives," she says. "It's nice." Her son Aiden was the youngest Williams kid in the crowd, and she appreciates hearing from the other parents who have already navigated some of the issues she's facing.
"I know there are other younger kids with Williams Syndrome out there in the Burlington area," she adds. "I think right now they're still in the acceptance stage."
Burlington's Walk for Williams was one of more than 40 similar fundraisers happening around the country on Saturday, the WSA's 30th anniversary. It also featured a raffle, with prizes donated from Lake Champlain Chocolates, SnowFlake Chocolates, Beltrami Studios, The Edge, Vermont Teddy Bear Company and Once Upon a Child. Hill says they raised $4800 for the WSA, which will go toward research programs, family assistance with health care and camps for Williams kids.
She points out that raising awareness of Williams is part of the goal, too — hence the T-shirts. "A lot of times, it's the bigger disabilities that get the attention," she says. "Everybody knows about Down syndrome. Everybody knows about autism." By organizing the walk, she hopes to educate people about her son's condition, especially other young children. "So when they go to school with [kids with Williams]," she says, "they'll know how to relate to them."
Photos from the walk by Sarah Larner and Cathy Hill