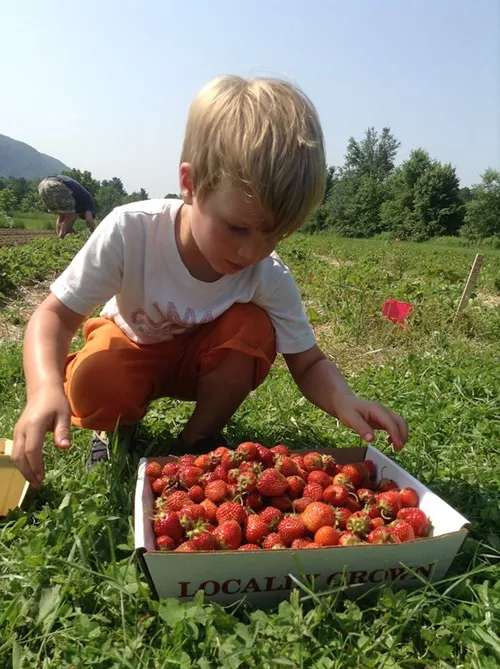 Theo Novak at Last Resort Farm in Monkton
Berry picking is one of those quintessential summer activities that's fun for both kids and adults. There's a plethora of patches to choose from in our area, but my exciting discovery this strawberry season was the
Last Resort Farm
in Monkton.
The farm is a bit off the beaten path, to be sure, but a couple of things set it apart from other berry operations. First, its berries — and other produce — are 100 percent organic. Second, they have special rows reserved for kids, ensuring your preschooler's fruit frolicking won't interfere with the more serious-minded adult pickers. (You know them, those stoic folks in wide-brimmed straw hats who look to be harvesting enough berries to make several dozen jars of jam).
On a recent weekday morning, my 3-year-old son, Theo, and I decided to hit the Last Resort fields. Farmer Eugenie Doyle handed us a tray and gave us the lay of the land — and a tongue-in-cheek warning that tasting the berries while picking was required.
When we got to the kids area, a young worker directed us to a row with lots of ripe berries. Theo had a grand time leisurely picking and eating them, while I worked my way down the row, filling up my tray with a heaping pile of ruby-red jewels.
More than five pounds of strawberries and $22 later, we were ready for the picturesque drive home and to put the fruit to good use. All week, I tossed strawberries into smoothies and packed them in camp lunches. We even had an underwhelming experience making homemade fruit roll-ups. (Really, who has time to lurk around the oven for several hours, constantly checking to see when the strawberry paste is dry?)

My favorite preparation of the bounty, however, was macerated berries atop the Original-flavor frozen yogurt from SoYo in Burlington. It sounds fancy, but maceration is really just a simple cooking technique that calls for soaking fruits or vegetables in liquid in order to soften and add flavor to them.
For the kids strawberry topping, I macerated the strawberries in a bit of sugar and lemon juice. For the adults, I went more gourmet, with balsamic vinegar and a chiffonade of basil from our garden. The strawberry juices ran all over the frozen yogurt, turning it a pleasing shade of pink. It was better than delicious — it was summer in a bowl.