What's Happening...
Health & Fitness Events – Members Pick
1 total results
Sat., Oct. 19, 9 a.m.-2 p.m.
802-225-8699
Health & Fitness
The Montpelier Recreation Department sponsors a winter-prep sale offering lightly-used skiing and boarding equipment. Drop off gear Friday, October 18, from 9 a.m.-6 p.m., and shop on Saturday.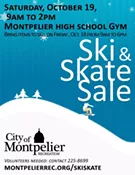 Showing 1-1 of 1 total results in this search.