What's Happening...
Health & Fitness Events – Staff Pick
4 total results
Tuesdays, 6-7:15 p.m.
802-778 -0300

Sun., Oct. 27, 1 p.m.
802-496-2487
Seasonal, Health & Fitness

Runners race through a not-too-scary course in costumes, followed by Halloween treats, games, woodfired pizza for purchase and prizes for the best costumes and fleetest feet. $10-20; proceeds benefit the Warren PTO.
Sat., Oct. 19, 9 a.m.-2 p.m.
802-225-8699
Health & Fitness
The Montpelier Recreation Department sponsors a winter-prep sale offering lightly-used skiing and boarding equipment. Drop off gear Friday, October 18, from 9 a.m.-6 p.m., and shop on Saturday.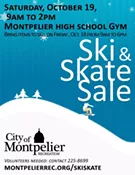 Sat., Nov. 9, 9 a.m.-5 p.m. and Sun., Nov. 10, 10 a.m.-2 p.m.
802-595-2200
Health & Fitness
Families gear up for winter sports. Consignment preregistration weekdays, beginning Monday, November 4, 7:45 a.m.-3 p.m.; consignment drop-off Friday, November 8, 4-7 p.m. proceeds benefit the Waitsfield Elementary School PTA.

Showing 1-4 of 4 total results in this search.