What's Happening...
Arts & Crafts This Weekend
3 total results
Sat., Aug. 24, 2-3 p.m.
832-928-8837
Arts & Crafts, Library & Books

Inspired by the current art exhibit 'Bucolic Concrete' at Flynndog Gallery, young writers submit poetry and prose by August 23 and share work publicly. Ages 3-21. food and drink available for purchase.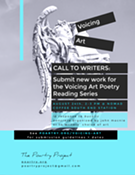 Saturdays, 10-11:30 a.m. Continues through Sept. 7
765-560-5445
Education, Arts & Crafts

Master Teaching Artist Michael Dyke immerses youngsters in musical stories and merriment, on this historic African-American-owned farm. Ages 8-11. $10; preregister.
Fourth Saturday of every month, 11 a.m.-1 p.m. Continues through Dec. 28
802-865-7166
Arts & Crafts
Families drop in and ignite their imaginations with a current exhibit, then get hands-on with an artistic endeavor.
Showing 1-3 of 3 total results in this search.