What's Happening...
Arts & Crafts This Weekend
3 total results
Sat., Oct. 19, 11 a.m.-3 p.m.
802-985-3346
Arts & Crafts
Inspired by William Wegman's large polaroid photographs on temporary display, crafty kiddos create their own art. regular museum admission, $8-25; free for children under 5.

Sat., Oct. 19, 2-3 p.m.
832-928-8837
Arts & Crafts, Community

Inspired by the current art exhibit 'Joy and Other Acts of Resistance' by Mercedes Bautista at Flynndog Gallery, young writers share work publicly. Ages 3-14 and up. food and drink available for purchase.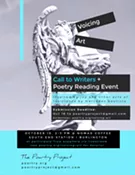 First and Third Sunday of every month, 10-11:30 a.m.
802-324-9938
Arts & Crafts
Little ones and caregivers drop in and get messy with multiple materials to spark imagination. Ages 18 months to 5 years with caregiver. $5 per child; $8 max per family; $40 for a 10-visit punch card.
Showing 1-3 of 3 total results in this search.