What's Happening...
Community Events – Tickets Available
3 total results
Sun., Aug. 25, 8-10 a.m.
802-864-1848
Community, Nature & Science

The Museum opens its first floor to fathers and kids and offers a complimentary bagel breakfast, while Let's Grow Kids queries dads about childcare stories. regular museum admission after 10 a.m.
Sun., Sept. 1, 4-9 p.m.
800-622-4000
Community
Local food trucks and brews, family relays with prizes, kids' entertainment, live music, fireworks and more make for a marvelous Labor Day Sunday. $7-10; free for kinds under 10.
Sun., Sept. 22, 1-5 p.m.
802-222-0944
Seasonal, Community

Barn stomping fun gets festive feet moving to live music and dancing, with games, a silent auction, old-timey eats and treats and more in this fundraiser to offer free services for Vermonters living with cancer. $15-30; preregister.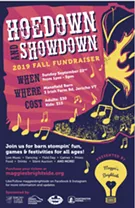 Showing 1-3 of 3 total results in this search.