What's Happening...
Education Events – Staff Pick
8 total results
Sat., Oct. 12, 11 a.m.-3 p.m.
802-865 4556
Education
The Alnôbaiwi Abenakis process and cook their harvest with demonstrations of a 'bean-hole' earth oven, baking, broiling and stewing corn, bean and squash dishes. Visitors view a 1850's camp wigwam, shade lean-to and cooking fireplaces on the Vermont Indigenous Center ceremonial grounds. regular admission, $6-10; free for children under age 5.
Wed., Oct. 16, 8:30-10 a.m. and Wed., Nov. 20, 8:30-10 a.m.
802-985-2827
Education
Parents interested in an alternative education for their children visit the Turtle Lane Campus classes, followed by refreshments and Q&A. preregister.

Sat., Sept. 21
Education
Numerous historic sites and museums across the state open their doors to the public free of charge during this national event sponsored by
Smithsonian
magazine. Visit smithsonian.com/museumdaylive to search for participating locations.
Sat., Sept. 21, 10:30 a.m.-4:30 p.m.
802-759-2412
Education
Competitors of all experience levels test their skills of this ancient hunting technique of throwing darts. Workshops and demonstrations of crafts and skills from ancient to early contact period times and children's activities round out the day. $5; free for children under 15 to watch; $7-8 to compete.
Wed., Oct. 9, 7-8:30 p.m.
802-985-2827
Education, Parenting

Parents and educators spend an evening focussed on learning practical and positive strategies to support students' digital lives, and discuss ways to build safe and healthy relationships with technology. For adults.
Tuesdays, 3:30-5 p.m.
802-655-6424
Education
Kids investigate what makes technology tick by taking apart objects and designing new creations. Use the library's materials or bring in computers, keyboards or other old electronics.

Thu., Sept. 19, 6-8 p.m.
802-324-9538
Education, Community

Youth from the Young Writers Project led a program to build leadership, collaboration and audience to create positive change through writing and art. preregister.

Sat., Sept. 21, 2-4 p.m.
802-228-2025
Community, Education

Boys and girls check out a real camping experience with fishing, gold panning and campfires. Parent info and recruitment from 2-4 p.m., but families are welcome for the day. Grades K-5.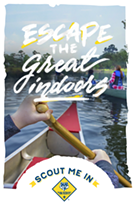 Showing 1-8 of 8 total results in this search.