What's Happening...
Dance Events – Staff Pick
3 total results
Sun., Nov. 10, 3-4:30 p.m.
802-223-1509
Dance
Families delight in a lively afternoon of dances and singing games with instruction and live traditional music. Ages 3-8 with caregivers. suggested donation $5 per adult; free for children; no one turned away.
Sat., Nov. 16, 7 p.m.
888-757-5559
Live Performances, Dance

Internationally acclaimed choreographer Victor Quijada and his company combine the energy of hip-hop, the refinement of classical ballet and contemporary dance to mesmerize the audience. $25-45.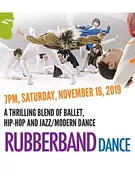 Sat., Dec. 14, 2-4 p.m.
802-865-7558
Live Performances, Dance

Graceful gliders from the local figure skating club and participants from Burlington Parks, Recreation & Waterfront programs sail across the ice, performing holiday-themed acts during this seasonal revue. admission by donation; proceeds benefit a local nonprofit.
Showing 1-3 of 3 total results in this search.