What's Happening...
Theater This Weekend – Staff Pick
2 total results
Fri., Dec. 13, 6:30 p.m. and Sat., Dec. 14, 2 & 6:30 p.m.
802-355-1461
Theater
The Very Merry Theatre Troupe performers in grades 3-8 take over the stage with this timeless classic of the Von Trapp singers. admission by donation.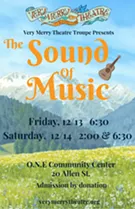 Fri., Dec. 13, 7 p.m. and Sat., Dec. 14, 2 & 7 p.m.
802-773-1822
Live Performances, Theater

Two princesses and a host of familiar characters warm the audience's hearts with this ice-filled and musical journey of self-discovery, camaraderie and the real meaning of love. $10-12.
Showing 1-2 of 2 total results in this search.