Most people wouldn't classify bowling as a physical challenge. After all, it's a sport that can be played, and won, while enjoying a beer and a basket of fries. Still, spending a few hours at the lanes can be a fun way to stay active, especially in winter.
On a recent Friday evening, my family headed to Spare Time, a Colchester complex that includes a bowling alley, arcade and restaurant, to test our accuracy and strength with bowling balls and pins. We hit the alley around 6 p.m., not knowing that it was a League Night; bowling leagues made up of local adults occupy most of the lanes there every evening except Sunday. The night we bowled, about 75 percent of the lanes were reserved for league members, so we had to wait our turn.
The staff took my name, gave me a beeper that would alert us when our lane was ready, and suggested we visit the restaurant. But our son Wylie, 8, and his 8-year-old friend, Anna, were more interested in the flashing lights of the arcade.
The kids tried their luck at the games for about 20 minutes, and it paid off. With $6 in tokens, they won enough tickets playing skee ball and Fruit Ninja to earn a few pieces of candy, a pair of finger cuffs and two small bouncy balls.
Our beeper went off about half an hour after we'd arrived; we'd just ordered drinks and baskets of fried appetizers from the snack bar. Time for the main attraction.
Each of us carefully chose a ball we could comfortably lift: 7-pounders for the kiddos, a 9-pounder for me and a 12-pounder for my husband, Gabe.
click to enlarge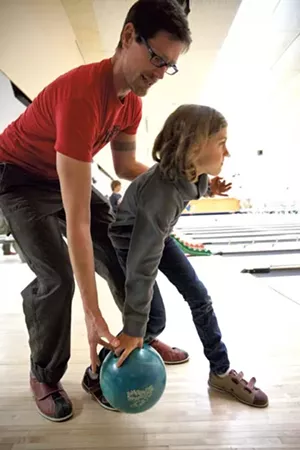 In bowling, the object is to roll your ball down a long lane and knock down the 10 pins standing at the end of it. Each bowler gets 10 turns, or "frames," per game. Bowlers get two tries per turn; ideally you knock all the pins down the first time, but if you don't, you get to roll again.
The lane is flanked by two gutters. If your ball drops in, it can't hit any pins, or score any points. Keeping the ball out of the gutter can be tough, especially for beginners and kids. Fortunately, Spare Time has an easy-to-use automated bumper system. While setting up the game on the lane computer, each player indicates whether they want metal rails to cover the gutters. Opt in and bumpers automatically slide into place at the beginning of your turn.
I figured bumpers would help level the playing field for our mixed-age group, especially considering that my high-scoring husband comes from a long line of semiprofessional bowlers. Anna decided to use the bumpers, but Wylie surprised me, choosing to risk gutter balls without them.
Once we were set up, the four of us took turns rolling our balls down the lane and high-fiving after each turn. Hefting and flinging the ball 20 or so times per game is like lifting weights. Though, in our case, any fitness benefits were counteracted by frequent breaks to sip cold beverages and munch on perfectly crispy onion rings and sweet-potato fries.
At the end of the game, Wylie's low score was a sure sign that bumpers might have helped boost his ranking. He was disappointed, so we didn't dwell on the scores. Instead, I asked, "Who had the most fun?" All hands shot into the air, indicating a four-way tie. We'll be back, if not to prove our athletic prowess, then at least for another basket of fries.